Portable Wheelchair Ramp Lightweight Aluminum by Roll A Ramp
**Please Note:  Due to Covid-19 supply constraints, There is currently a 2-3 week lead-time on all orders
Finally! A Portable Wheelchair Ramp that is actually portable. The Lightweight Aluminum ramp by Roll A Ramp allows you to roll the ramp up or down as needed. Stop struggling with Heavy Bulky ramps! From wheelchairs and Boats to Motorcycles and power scooters, this one of a kind portable ramp system can handle any job. Its unique roll-and-go design makes it the ideal choice when convenience, storage, and transporting are key concerns. These portable loading ramps are available in 12″(sold as a pair), 22″, 26″, 30″, and 36″ widths and various lengths.  Made of Anodized Aluminum so you can leave them outside in any weather and they will never rust.
**Note: Support stands are required for ramps 12′ and longer.
Features of the Portable Wheelchair Ramp
Manufactured from high-strength, lightweight aluminum
Weight capacities up to 1,000 lbs.
Available in multiple lengths and widths to accommodate a variety of rises
Built-in 1-1/2″ side rails to prevent driving off the side
Designed for use with wheelchairs, ATVs, lawn tractors, and more
Support stands are required for ramps over 12′ long
Conveniently stores in most cars and vans
Rolls up for easy storage and transport
Converts from a roll up ramp to a folding ramp
40% more strength than competitive ramps and weighs up to 25% less
10 Year Unconditional Warranty
Allows access to your vehicle and can transfer to an entry ramp for your house in minutes.
Engineered for a smooth entry and exit with all wheelchair styles.
Go from vehicle to home to friends with ease.
Additional ramp links can be added with simple tools
Your ramp is not obsolete if your needs change.
Ramp Options and Accessories
Handrails 
Rounded and square ends available
Ramp Mounting Brackets
Mounts your ramp to a wall, step or the back of a loading truck
Pickup Tailgate Mounting Bracket
Secures your ramp to your tailgate so it wont slide off when a motorized vehicle (Motorcycle, ATV, Powered Chair) is being loaded
Extra 1 ft Ramp extension
Each section extends your ramp by 1 foot (requires locking pins sold separately)
Quick Connect Locking Pins
Connects and disconnects ramp sections with a push of the button.
Heavy Duty Approach Plate
Heavy duty approach plates allow for placement of ramps upper end directly on the landing surface.  These plates provide more height clearance for vans and maximize usable ramp length.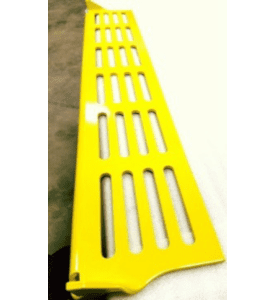 Ramp Spacers for 12″ Ramps
Keeps the spacing between ramps the same from top to bottom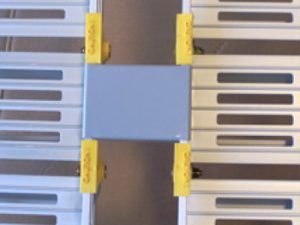 Ramp Width Reducer
Reduces the width of the ramp at the top.  Good for door entries or transitioning to a narrow path.